sitemap
Click here to start/stop music
Fairhaven High School Class of 1976
"To know where you're going, you need to know where you been".
Remembering many of us began our journey at Oxford Elementry School.
---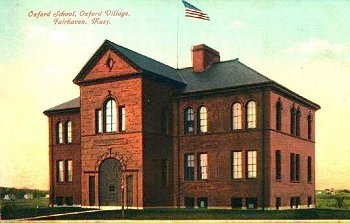 ---
Oxford Elementry School closed its' doors June 2007
August 30, 2007 1:15 PM
Excerpt from article by ED PEPIN Standard-Times - News Correspondent
How many different hands pushed those old wood doors open? How many fingers traced the handrail as the kids walked from the second floor to the first? How many times were those cloakroom doors opened and closed? How many times had those window shades been pulled? How many lives were touched by the magic that resided in that school? How many memories; how many tears? How many generations of families have been through those halls or played jump rope or hop-scotch or jacks on that playground? How many teachers went there before they started teaching, and how many of them spent their careers there? Oxford School did its job well and its shelf life has come to an end, and while the school that replaces it is a thousand times better in every category, I can't help but think about the cobweb covered desks in the attic and the 111 years of memories that lay in its dust.




---

Drag mouse/pointer over pictures of the schools, some have class photos. Take a trip way back when.

---
The other schools that also led the way to Fairhaven High School
Drag mouse over several school pictures and click to see some of our past.
Rogers School,(Old) East Fairhaven School, Wood School, Anthony School, Tripp School, Hastings Jr. High, St. Joseph and Parting-Ways(Aucushnet).
---
If any of our classmates has photographs of Sacred Hearts Academy, we would like to post it. Any photos of any classmates in our early years we will post them. If you send them snail mail, I will ensure the prompt return after posting the photo on this site. (DF)
---
Only memories remain of a place called Barbero's
by Joanna McQuillan Weeks - Standard-Times Assistant Features Editor/Columnist
An era has ended in Fairhaven.
Well, truthfully, the era ended some months back, with the June closing of Barbero's Italian restaurant. But now that the dining spot has been reduced to toothpicks by a wrecking crew, the era is truly and emphatically over. It makes me sad to see the pizzeria and sub shop demolished to make way for a Brooks pharmacy, and I'm sure I'm not alone. Barbero's was the spot we older kids would head for on early-release days from nearby St. Joseph's School. We'd get a crisp-crusted linguica pizza or a hot Italian sub and probably bedevil the good-natured waitresses. I vividly remember a boy named Paul whom I had a crush on demonstrating his prowess at turning his eyelids inside out to gross out the girls, as only an adolescent guy could. It seems to me we were sitting in one of those booths equipped with a mini-jukebox -- that was really cool! (Now that idea has resurfaced with tableside boxes that let you tune into a particular TV set at Smokey Bones BBQ & Sports Bar.) Through high school and college years, Barbero's was a date destination, or the place to call for tasty takeout. I wonder how many coupons I collected from the pizza boxes? If you saved 10, Barbero's rewarded your faithful patronage with a free cheese pie. Many a diner returned like clockwork on a Friday or Saturday night, taking "their" table and ordering "the usual." My husband was particularly fond of the restaurant's lasagna, calling it his favorite -- after mine, of course. In addition to the hearty, delicious Italian fare, Barbero's had another drawing card in the '60s and '70s: a miniature golf course that eventually was joined by a batting cage. I never tried my luck with batting, but I putted my way through the mini-golf "links" many a time. That hole with the upper deck was particularly challenging, as I recall. And if memory serves, when your game was done, you had a last chance to win a free round -- or was it a pizza? -- by some test of skill. Just like with the coupons on the pizza boxes, the Barberos knew how to keep their customers coming back. They did it with good, modestly priced food, an attractive atmosphere that changed through the years, and friendly, hometown service. Thanks, Barbero family, for the memories. You can email Joanna at jweeks@s-t.com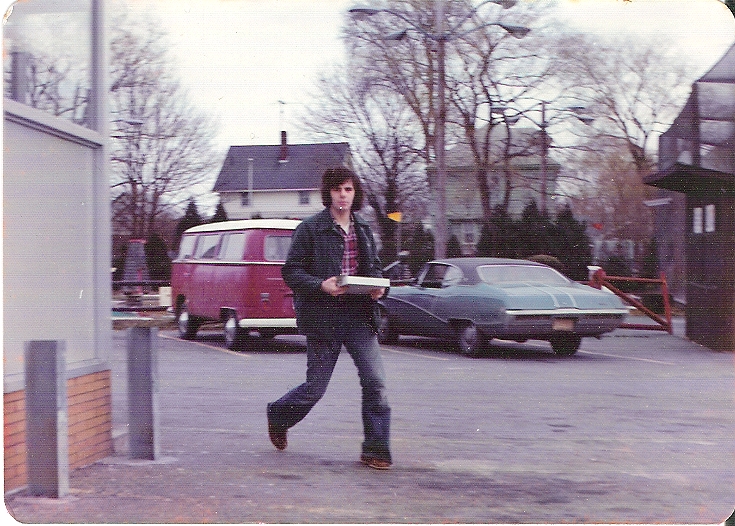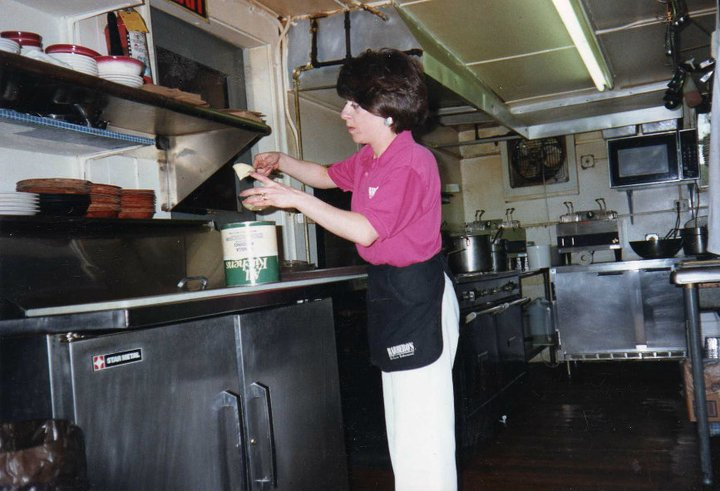 UPDATED:Left:Dave Farias picking up a pizza after the football game, 1975, Middle: Janet Gouveia waitressing unknown date and Our Mike Barbero, about 1972-1976?
---
Questions about the F.H.S. Alumni Association, contact Mr. Robert Foster at rwfoster@isp.com or FHS Alumni web page.