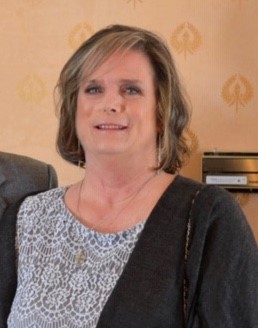 Susan (Fitzpatric) Burns
June 3, 2019
From Kevin and Christian Fitzpatrick: To all extended family and friends from Fairhaven that our sister Susan (Fitzpatrick) Burns passed away last night after a long illness. Please keep her children Brigid, Caitlin and Patrick in your prayers.
She spent the last 10 years caring for our Mom so she could remain in her home as long as possible and we will always remember how caring she was for everyone in her close and extended family. Rest peacefully Susan.
Rest in Peace Susan, your FHS '76 Classmates.
Susan Mary Burns Born on Valentine's Day 1958 at Columbia Hospital in Washington DC where her Father was serving his Medical Residency, Sue passed away late on the night of June 3rd at Memorial Hospital in Savannah following a brief illness. Loving Daughter of Mark and Marian Fitzpatrick, Susan spent the past several years providing care for her Mother at the home her parents built together in Richmond Hill, GA. Susan grew up in Vienna, VA and Fairhaven MA following the familys relocation there. She later resided in Boston, MA, Malden MA, and Atlanta GA.Susan attended the University of Massachusetts at Amherst, majoring in Liberal Arts. Predeceased by her Father, she is survived mother Marian, children Brigid Minnich, Caitlin Burns and Patrick Burns, grandchildren Caroline Ottenbacher and Everly Minnich. Born the fourth of seven siblings Joan Day, Mark Fitzpatrick, Kevin Fitzpatrick, Joseph Fitzpatrick, Brigid Monnin and Christian Fitzpatrick, Sue will be remembered for choosing to be one of the Big Kids, or the Little Kids depending on which side was more favorable. Susan and former husband Paul worked extensively in the restaurant business, including the establishment and ownership of the family oriented My Honey Fitz restaurant in Malden MA and several establishments in the Savannah GA area. From the Front of the House, her friendly way made her loyal patrons feel like family and friends.A career change found Susan managing an Atlanta area PetsMart. Susan became a devoted champion for animal welfare. Her pet companions Aisling and Oscar brought her an abundance of joy and solace. She was extremely proud of her children who have found success in careers as entrepreneurs and professionals in the banking industry. She encouraged them to follow their dreams and to be free-spirits.Gone from us far too soon, Susan will be missed. A private Memorial Service for the Family will be held Saturday June 8, 2019. In lieu of flowers donations to the Humane Society of Greater Savannah, 7215 Sallie Mood Drive, Savannah, GA 31406 www.humanesocietysav.org are requested.
---
Return To In Memory Selection