sitemap
Click here to start/stop music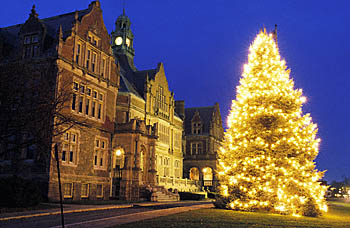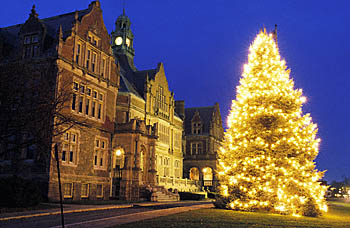 Fairhaven High School Class of 1976
Message from the FHS Alumni President Bob Foster '66
---
We hope that you enjoy this annual "Light-a-Light" issue of The Advocate. We try to keep our alumni updated on the activities of the Alumni Association during the past year. Towards that end we have created a new website: www.fairhavenalumni.org under the leadership of web designer Ed Hebert '86.
For the past twenty-three years the Light-a-Light project has served as our only annual fund-raiser. It has helped us fund numerous restoration projects within Fairhaven High School such as the restoration of Room 7 and the Knipe Auditorium. This year we presented a gift of $11,000 to the new FHS principal Tara Kohler which will be used to purchase 28 computers to create a sorely needed second computer room to be used by classroom teachers and students.
On Friday, June 27, 2008 to kick off homecoming weekend the Alumni Association sponsored the third annual "Evening of Taste". Seventeen local restaurants and businesses generously set up food stations throughout the school and a huge crowd of alumni and townspeople roamed the halls of the school reminiscing and renewing acquaintances while sampling a wide variety of food items. Please join us for our fourth annual evening next year on June 26, 2009.
During the current school year we have a new project that is detailed on our new website under "Alumni Projects". Referred to as the Library Book Project, our purpose is to provide additional resources for the students and staff in the FHS library/ media center. For a minimum donation of $25 donors can honor a classmate, friend, former teacher or loved one and a distinctive nameplate will be displayed on the inside cover of the book purchased by the FHS librarian, and an appropriate letter sent to the person or family of the person being honored. Please consider supporting this very worthwhile cause. We ask your help in supporting the Light-a-Light fund-raiser by returning the enclosed envelope, not only with your e-mail address for our data base so we can send out e-newsletters, but with a contribution as well. Fairhaven High School is a unique and beautiful place that holds great memories for thousands of alumni. Your support is sincerely appreciated!
---
For questions about the F.H.S. Alumni Association, contact Mr. Bob Foster at rwfoster@isp.com for further details or click here to visit FHS ALUMNI web page.
---
35th Class Reunion Count Down.
Possible target date of June 25th 2011.
Just days to go!
---
Return To Home Page